A friend always keeps saying:
If I start visiting every tourist location in India, it will take you years to finish.
And we see the truth in his statement.
India is a land of rich history and vivid culture.  Each place here carries an aura of divinity that attracts you towards itself. It has so many things to offer that you can just visit them on a whim and come back. Instead, it requires you to immerse yourself in their beauty.
People willing to learn about Indian culture can explore a lot in the country.
So, if you're also one of those and wondering where you should go – you can use our help. We have brought you a list of historical places that are heaven for tourists who're interested in learning about the Indian culture.
7 Indian Historical Palaces and Forts that turn into cultural performance areas;
1 Neemrana Fort Palace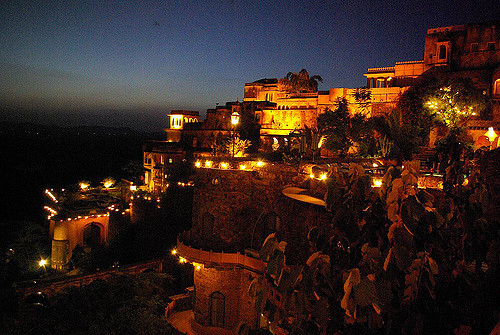 Located 100 KMs outside Delhi on Delhi – Jaipur road, this wonderful palace is a preferred holiday spot for tourists from Delhi and all over the world. Every weekend people come here to escape from the hustle and bustle of the city.
Built over 14 layers tiered into hills in 6 acres area – Neemrana Fort-Palace makes up a perfect holiday spot.
However, this is not the only reason everyone prefers coming here. Apart from a divine ambiance, the resort also holds different cultural performances for guests. You can have a happy time here while seeing artists dancing on songs.
Having remarkable holidays watching wondering Rajasthani dance. Isn't that cool!
2 Tijara Fort Palace
The Alwar district in Rajasthan is blessed with historical landmarks and scenic views. Yet, Tijara Fort Palace has the beauty you'll never find anywhere else.
Breathtaking sceneries, luxury suits, 7 gardens that look more wonderful than 7 wonders of the world, and refreshing air – the place has everything you can expect in an ideal holiday spot.
The best part about this historical Fort Palace is its suits. Each is named after a renowned artist and decorated in his/her work. Nowadays many dance performances are conducted here.
Being a person who's fascinated by the Indian culture – you'll definitely love it.
They also host long-distance weddings, film shoots, and conferences.
3 Mehrangarh Fort, Jodhpur
"I have just seen the 8th wonder of the world." That's what Jacqueline Kennedy Onassis, the first lady of the US said after her visit to Mehrangarh Fort.
After coming here, you'll feel the same. Located on a perpendicular cliff 400 feet above from the marvelous city of Jodhpur, this fort exactly depicts what royalty is: strong, invincible, intimidating yet incessantly charming.
If you have a soft core for Indian culture, you'll feel like home in this fort cum historical museum. There's a lot to explore for you here: artworks of the glorious Rajput era, paintings, armors, textiles, decorative arts, etc. You can even take a stroll in Rao Jodha Park to get some fresh air.
Apart from all these, they keep holding cultural festivals here like Rajasthan International Folk Festival, World Sufi festival. They celebrate local festivals with the same enthusiasm.
 4 Diggi Palace, Jaipur
An oasis in the barren landscape of Rajasthan, Hotel Diggi Palace is a poem written in stone 150 years ago.
That's how Hotel Diggi Palace is described on its official website.
When you actually visit the palace – you realize that they're telling the truth. This place offers you a sense of peace amidst the chaotic life of the city. Perhaps, it's an excellent choice for travelers who love spending quality time here.
It has everything that you can seek in an ideal resort – ecstatic ambiance, comfy suits, and the festivals they organize here are spectacular, especially the Jaipur art festival and Jaipur Sufi festival.
5 Seraikela Palace, Odisha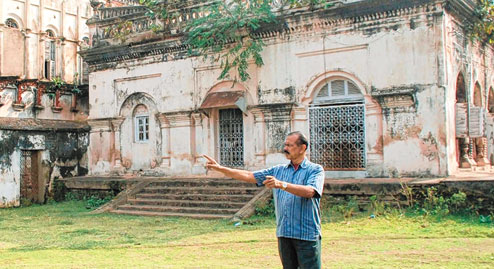 One of the most primal reasons you must visit this palace is because it was never conquered. So, its culture remains fresh and unaffected.
Here, you'll get to experience what true royalty is. Apart from this, the view it offers is truly mesmerizing. You feel completely relieved when you reach here.
Several cultural festivals are also held in the Seraikela palace. So, every Indian culture lover with enjoys this spot.
 6 Mysore Palace
The rich cultural heritage and the breathtaking beauty of Mysore Palace is well known. Every year tourists come to Mysore just to visit it.
However, this is not the only reason – this place is so popular. One of the most famous cultural festivals, Mysore Dasara is held here. It is a dream every person who's fascinated with Indian culture dreams of living.
The festival is held for 10 days in which you witness the colors of life you never witnessed before and that's why it's so preferred.
 7 Ghats of Ganga
There's something special about the Ghats of Ganga. When you sit there, you forget your all worries and reach in a cosmic state. You feel so relaxed and calm. There are various dance and regional cultural activities occurred there where u don't want to miss.
No wonder why you shouldn't visit there. There are 88 Ganga Ghats in Varanasi where you'll see multiple colors of life. People doing pooja, couples holding hands, children playing, and families cremating their loved ones. This is where you feel the most connected.