If you love Indian cricket, then chances are, you'll also be a big fan of the incredible Rohit Sharma. Indeed, Sharma is widely considered one of the most successful and highly-acclaimed Indian cricketers, and his career has seen him achieving countless successes throughout. With this in mind, today, we're taking a look at just who Rohit Sharma is and why he is such a big name in the Indian cricket world; after all, he absolutely deserves the praise!
Who Is Rohit Sharma?
Who is Rohit Sharma? Rohit Sharm was born in Maharashtra on 30th April 1987, but was raised by his grandparents due to his direct family's low income and inability to provide for his childcare. However, he would return home to visit his family every weekend during his childhood.
Financial issues would continue to plague Sharma's early life for years, but in 1999, he was given the opportunity to join a cricket camp and begin learning to play, thanks to the support from his uncle. While there, the coach recognised his talent on the field and arranged for Sharma to attend the Swami Vivekanand International School to continue furthering his talents on the cricket pitch.
There's no doubt that Rohit Sharma has achieved great things during his career, coming from a background that left him with fewer opportunities but succeeding in his aspirations thanks to his hard work and talent overall.
With this in mind, whether you're the sort of cricket fan who loves to bet on sports with Lottoland, or if you're just looking to find out more about one of Indian cricket's most acclaimed and celebrated players, it's clear to see that Sharma's story is one that can inspire us all – and he's certainly achieved more than his fair share during his cricketing career.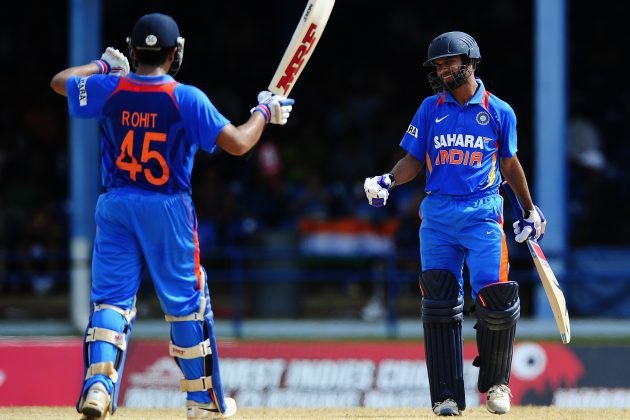 Career Achievements
Rohit Sharma has achieved a huge amount during his career with professional cricket, which commenced in 2006 and has continued to this day. He started out playing for Mumbai in 2006, before transferring to the Deccan Chargers in 2008, and finally to the Mumbai Indians in 2011 (where he has remained ever since – and there's no doubt the team is lucky to have him).
Runs
In fact, he has achieved a whopping 11447 runs in the List A games alone, according to ESPN CricInfo; this was closely followed by 9779 runs in the T20 league, 9205 runs in ODI games, and 8033 for FC games. Meanwhile, though not quite as high as the number of runs for other leagues, Sharma is also one of the four most celebrated Indian players in the IPL with over 5000 runs during his career, as of March 2021.
ODI Success
The sheer number of runs he has achieved is far from his only achievement, though! Indeed, Sharma is also the only Indian cricketing batsman to have achieved over eight innings, scoring 150+ points, during the ODIs. This incredible feat ensured that David Warner and Sachin Tendulkar, both cricketing legends in their own rights, were left in second and third positions.
What's more, Rohit Sharma is the third higher century scorer among Indians in the ODIs and is considered the fastest Indian opener ever. That's no small feat and one that will certainly prove hard for any other players to overcome.
In recognition of all his immense efforts and contributions to Indian cricket, the ICC recognised Sharma as 2019's "ODI Player of the Year." In addition to this, he has held a whopping 21 titles as Player of the Match for ODI games.
Achievements Outside of the Cricket Pitch
Throughout his career, Rohit Sharma has continually grown from strength to strength, regardless of the team he has been playing for. However, he's also an avid supporter of animal rights off the cricket pitch, directly joining PETA to help with controlling the population of street dogs and cats. Moreover, he actively promotes the practice of heartfulness meditation, and encourages people to engage with good causes such as health and child support charities.
In September 2015, he even joined forces with two big names from the world of Hollywood – Matt LeBlanc and Salma Hayek – to promote a campaign to save the last Northern White Rhinoceros. Thereafter, for 2018, he was even announced the WWF India Rhino Ambassador.
Final Thoughts
There is surely no doubt that Rohit Sharma remains one of the Indian national cricket team's most well-known players, and his career between 2006 and the current day has seen him play for three different domestic teams: Mumbai, the Deccan Chargers, and the Mumbai Indians. His incredible achievements on the cricket pitch and outside have both helped ensure that he is one of the most well recognised names, and it's irrefutable that the crowds of Indian cricket supporters will continue watching with avid interest to see what he pulls off next.