In May last year, archaeologists in India unearthed evidence of a 2,500-year-old planned city in Tarighat, Chhattisgarh, complete with water reservoirs, roads, seals and coins, buried 20ft below the ground, in a discovery billed as India's biggest archaeological find in recent memory. Now at the same site, researchers have found remnants of a "gutted settlement" which had been completely devastated by a huge fire in around the 2nd century BC, according to a new report in the Deccan Chronicle. The discovery adds to the mystery of the ancient site, as archaeologists try to piece together its ancient past.
Excavations at Tarighat over the last year have revealed that it was a rich trading centre where its residents enjoyed an affluent lifestyle. Female terracotta figurines recovered from the site, indicate that women were fond of different hairstyles and rich costumes. In total, twelve different hair styles were identified among the figurines. In addition, numerous Indo-Greek coins were discovered, along with more than 15 varieties of beads found in large number in almost 2,000 unusual sizes, styles and shapes, which suggests that Chhattisgarh served as a significant bead manufacturing centre. Pendants, ornaments, bangles of gold, silver and copper have also been unearthed from site which had to be placed under supervision of department guards.
Excavation director and archaeologist in culture department of Chhattisgarh, JR Bhagat said, "Chhattisgarh was the earliest urban centre on bank of Kharun river like other discovered centres of Mathura, Hastinapur and Takshashila on banks of river tributaries. Figurines retrieved from Tarighat so far indicate a rich lifestyle of people adorned with ornaments, who used to wear turbans."
There are four 15ft high mounds on the river bank around which existance of coins and some terracotta figures have been found. State archaeological department believes that the area seems to have been divided into blocks which appear like a market. Many structures were found to be facing the main road which is clearly visible between the blocks. About six to eight rooms were found on both sides of the road.
It is generally assumed that Tarighat finds date from 5th and 3rd century BCE. This was the period when the region was ruled by the Kushan and Satavahana dynasties in central India. An archaeologist from the Deccan College, Pune, says "It was the end of the period of the 16 Mahajanapadas (loosely translated to great kingdoms) when the Mahabharata was supposedly set, and when the Maurya empire had just began."
The facts surrounding the great fire which destroyed much of the settlement are unknown, but researchers are hoping that further excavation work, which given the extent of the site may take another 5 – 10 years, will help unravel the mystery.
The "gutted settlement" reminds of Roman city Pompeii that was buried under 13-20 ft of ash and pumice in the eruption of Mount Vesuvius in 79 AD. The archaeological site spreads over five acres and experts now believe that it is one of the earliest urban trading centres in the country. The Tarighat site provides evidence of four continuous cultural sequences including the Gupta period (sixth century AD), Satavahan period (third century AD), Kushan period (1st-2nd century AD) and early history period (1st-2nd century BC).
Excavations in a pre-historic site in Chhattisgarh by archaeologists have yielded tools believed to be of 10,000 years old.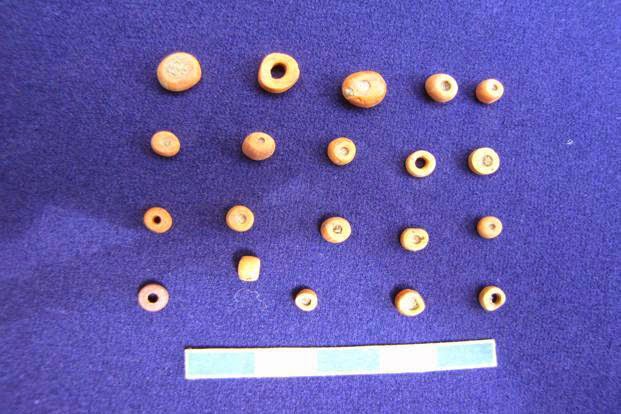 More than 100 tools of various materials and varied sizes have been excavated at the site recently. The artefacts found were in shapes of blades, lunettes, scrapers, burins, and cores and predominantly instruments. Some tools have suffered erosion in sharpness indicating that they were used items, while some others were found to be re-used. According to Mr Bhagat, in Mesolithic period, these types of tools were integrated with wood and used for skinning the animals and cutting trees.
A few months ago, archaeologists working in Chhattisgarh, came upon 10,000-year-old fascinating cave paintings depicting ancient extraterrestrial visitors.
Featured Image: Excavation in progress at Tarighat archaeological site in Chhattisgarh. Credit: Deccon College