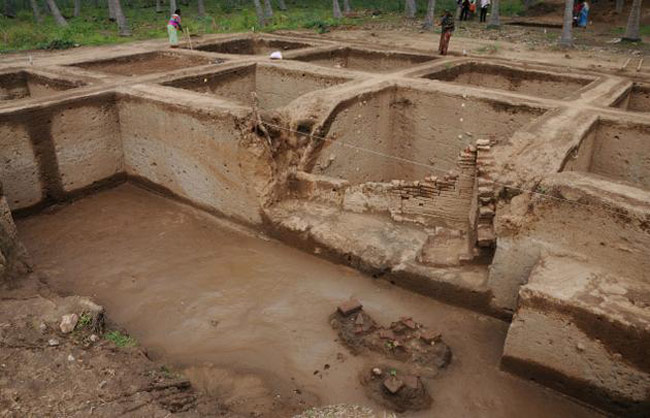 A 2,500-Year-Old City Unearthed Near Madurai
The small hamlet of Keezhadi in Sivaganga district near Madurai in the state of Tamil Nadu recently got its share of international recognition as it became a site of historical importance. A number of square-shaped trenches were dug out by the Archaeological Survey of India (ASI) to reveal what archaeologists believe to be the largest human settlement of Sangam Age, apparently dating back to 3rd century BC, nearly 2,500 years ago.
The excavation project took off in February this year on a private farm with tall coconut trees swaying. Soon, it was one of the biggest ASI projects in the region. According to historians, the square-shaped trenches could belong to the Pandya era of the Sangam Age. Referring to an ancient period of South Indian history, Sangam Age dates from the 3rd century BC to 4th century AD. It covers the entire Tamil-speaking region of that period with the Cholas, Cheras and Pandyas being the dominant kingdoms.
Antiquities like glass, pearl, beads and figurines made of terracotta and early historic pottery like black and red ware were unearthed. The neatly-carved settlements contained brick walls, wells, mud vaults, pottery, shells, rusted old coins, weapons and tools made of bones and iron, all trapped in layers of soil.
During 2013, the Tamil Nadu State Archaeology department conducted a yearlong research and dusted off nearly 293 towns along the course of River Vaigai which belongs to the Sangam Age. The research with the Western world took place within an area of 5 km from the river on both the banks. It started from Theni district, the originating place of River Vaigai, and went on to Ramanathapuram district where the river ends. The different unearthed towns were classified as places of worship, trading points, residential sites granaries or ports.
The recent excavation at Keezhadi was carried out at two different locations on the farmland. Both these places yielded different items. As per researchers, they represent a social hierarchy. The larger of the two settlements has more trenches and is believed to have belonged to the rich and the educated as items such as jewellery, gemstones, semi-precious stones and more than a dozen Tamil Brahmi inscriptions were unearthed. Brick structures appear more refined in this area. Even pottery items have typical Sangam Age Tamilian names like Thisan, Aadhan and Udhiran in Tamil Brahmi letters inscribed on them. According to superintending archaeologist K Amarnath Ramakrishna, the Pandya dynasty had maintained trade contacts with the Western world.
"The finding of rouletted pot shreds puts this place before 3 CE because the manufacture of such earthenware stopped in Rome by 1 CE for some unknown reasons. Arretine pot shreds establish trade links with Rome,"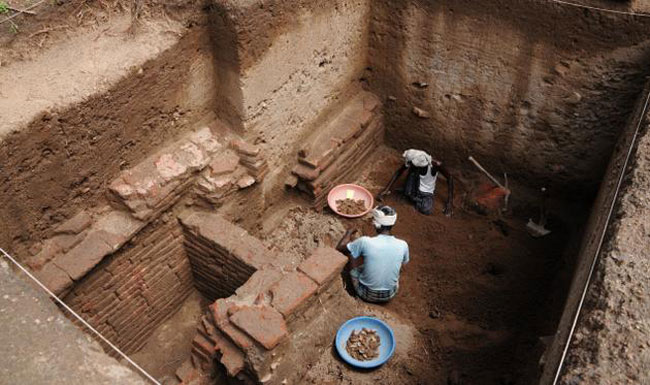 The appearance of beads of materials like agate, quartz and carnelian confirms that the dynasty had trade with Rome. The smaller settlement has a lot of graffiti on its pottery and weapons. Most of them have a symbol of fish on them, which as per records, represents a clan. Red and black pottery and decorative tiles were used on roofs.
The excavation project continued for around nine months during which the site was opened for public and researchers.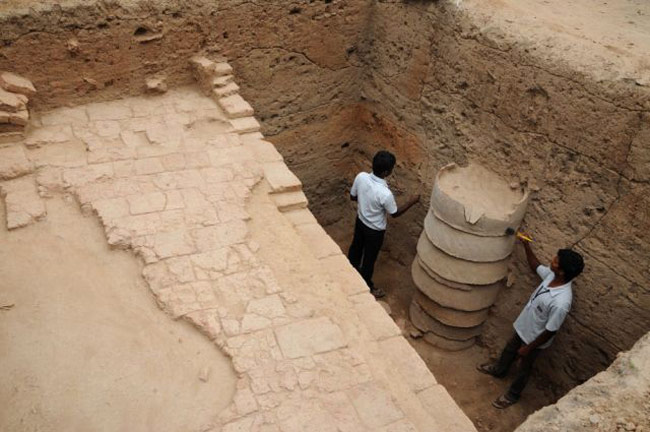 Source: The Hindu